Enlightenment (Hardcover)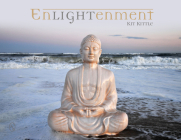 Staff Reviews
---
One day, the wife of photojournalist Kit Kittle brought home a Buddha statue that she had found in a shop. Made of porcelain and weighing twenty-five pounds, Kittle began taking it with him to his favorite places around the world. He captured stunning images of the statue in stillness among the chaos of a busy train terminal, perched above a downtown city street, on a park bench dusted with snow, on a boulder in a rushing river, in the curl of a wave, in the passenger seat of a car, riding the subway, resting in a field of ferns. Everywhere, the statue sits in its Buddha-ness, undisturbed, its porcelain surface reflecting the morning and evening light, resting in shadow and casting its own. Kittle's interest in Buddhism led him to begin meditating at the age of sixteen. Later, he studied Sanskrit and philosophy in India. The quotes that accompany the photographs in this book are among his favorites. Enlightenment is a lovely gift book that reminds us of the stillness within.
— Diane, Book Buyer
Description
---
In this unique photography book, photojournalist Kit Kittle travels around the U.S. with a statue of the Buddha to capture it in unlikely places. These 70 photos are paired with a series of simple philosophical quotes. The presence of the statue changes the feeling of every location, and the quotes, regarding meditation and compassion, bring one close to the source of the Buddha's simple ideals. The Buddha's image of steadfast composure seems to put today's fast-paced lives on pause, and gives the reader moments of wonder. Enlightenment awaits you.
About the Author
---
The Buddha series of photographs is an expression of Kit Kittle's fascination with Buddhism. Kittle studied Buddhist philosophy at Benares Hindu University in India.